The more you know about inflatable boats the more you will appreciate the commitment to quality at Achilles. This commitment can be seen in the meticulous attention to detail given to every feature on every Achilles boat. Once you have the chance to compare inflatables you'll will be impressed with all the little "extra steps" we take to insure the highest level of quality in all our features. From convenience features like our unique fold-down oar system, to safety features such as double-taped seam construction, no detail has been overlooked in fitting our boats with the standard features that make them the best in their class.

Our Confidence in the quality of Achilles boats is back by a full Five Year Warranty on both the fabric and the seams. And this applies to all our boats, not just our top-of-the-line models. That's because every one of our boats is designed to be the best.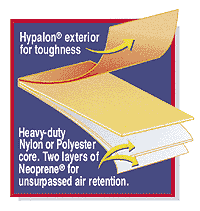 QUALITY MEANS THE BEST FABRIC
The fabric is the single most important factor in an inflatable boat, and no one makes a tougher, more durable fabric than Achilles. We manufacture our own fabric, since this is the only way to guarantee consistent quality.

Every Achilles boat is made with a durable DuPont Hypalon® reinforced fabric for the best possible resistance to damage from abrasions, oil, gasoline, nylon or polyester core. Our standard line boats and heavy-duty line boats are distinguished by the relative weight and thickness (denier) of the core fabric. The inside of our core fabric is coated with two layers of Neoprene because this elastomer iss extremely flexible and airtight. This guarantees that Achilles boats will remain fully inflated longer, even in extreme. temperatures
QUALITY MEANS SAFETY
Safety and quality go hand-in-hand, so we are always building more and better safety features into Achilles boats. This is why we overlap our seams a full inch and add seam tape both outside and inside for extra safety. No one reinforces their seams more thoroughly than Achilles.

More air chambers mean more safety; so you won't fine a competing inflatable with more chambers than a comparable Achilles model. More often, you'll even discover that the Achilles will have at least one more air chamber.

The list of safety features on Achilles boats goes on and on. Our fiberglass and wood transoms are made to last. Our extra bow rings, safety grip handles, fuel tank fasteners and full-length rubbing strakes are standard on most models because they make for a more complete, safer boat. The Achilles bulkhead baffle system keeps our multiple air chambers completely sealed off from one another, while working to equalize air pressure between compartments. And the non-corrosive valves on all our boats are double-sealed for safety.
Other Features...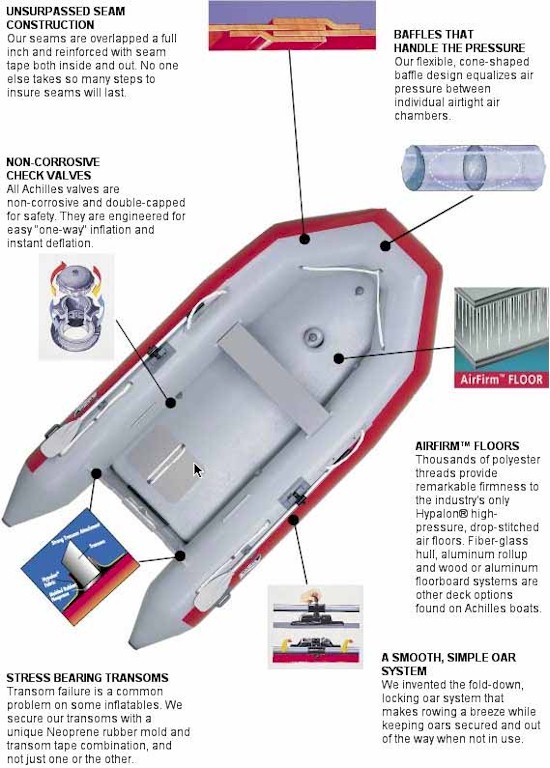 For A Brochure, Pricing and Availability Call:
707-429-3995
West Coast Inflatables 4227 B Lozano Lane, Fairfield, Ca 94533
Comments/Questions e-mail Us At wcinflatables@aol.com

HOME