At ARTIGIANA BATTELLI, every boat is carefully designed and inspected. Each craft is handcrafted with exacting care, not mass produced. We use only the highest quality materials and the most advanced technology available to meet discriminating boaters' demands for safety, dependability, performance and styling. We constantly upgrade our boats and their features to meet our customers' expectations. Our commitment to innovation and our attention to detail define our market and bring us discriminating customers who demand quality boats, reasonably priced.



Quality is only achieved when first-rate materials are combined with superior craftsmanship. ARTIGIANA BATTELLI has been building aluminum boats since 1972 and inflatable boats since 1968 under the experienced leadership of Mr. Gianni Perego, noted Italian Inflatable Boat Designer.


Every AB inflatable boat is backed by a full five year limited warranty. See your dealer for a copy of this limited warranty.

Thanks to our intensive research and advanced technology, we introduced in 1996 our revolutionary fiberglass floorboards that are maintenance free! These floorboards come standard with anti-skid finish for enhanced safety. Reinforced aluminum battens make up the framework of the floor structure providing the utmost in rigidity, and once again, no maintenance! Also standard, double-molded fiberglass transom and removable double-molded fiberglass rowing seat.

All our aluminum boats are made with marine grade aluminum . Nothing gives you the strength, durability and weight advantages of aluminum. And no one puts together aluminum better than the craftsmen at ARTIGIANA BATTELLI. In the hull you'll find longitudinal and transversal stringers that create a unified and unyielding structure. In our Lanven models every seam is precisely fitted and double riveted. Whereas in our Lancraft models the aluminum extrusions and aluminum sheets are mechanically joined by our exclusive INTER-LOCK system.

The AB inflatable boats are CE certified by IMCI (International Marine Certification Institute) and by RINA (Registro Italiano Navale). For individual certification numbers please check the owner's manual provided with each boat. ARTIGIANA BATTELLI is a member of the American National Marine Manufacturers Association (NMMA).


ARTIGIANA BATTELLI manufactures both fiberglass and welded aluminum rigid hulls. All our fiberglass RIBs are double-molded, hand laid and sealed to provide an airtight underdeck compartment. Our characteristic raised bows and layered deep "V" are designed to add seaworthiness and give you a dry ride. Each AB inflatable boat is carefully designed to plane easily without excessive power. When weight is an important factor, AB is your best choice. Each model is meticulously engineered to be as light and as tough as possible. You can verify this toughness for yourself by walking through any of our RIBs as they lay on a hard surface. Even the smallest RIBs have internal stringers that add strength, rigidity and durability to the structure, a feature that makes them very popular as dinghies among charter companies throughout the Caribbean.



All our tubes are hand-made with Du Pont Neoprene-Hypalon®. Every seam on an AB inflatable tube is overlapped a full inch (2.5 cm) and reinforced by taping on the inside. Note ARTIGIANA BATTELLI's rounded tube ends, which you will not find on lesser-quality inflatable boats, which typically have pointed cones. It takes superior craftsmanship and more costly materials to manufacture rounded tube ends, but the result is a neat, quality finish with a rub rail that extends around the ends of the tube to protect the stern of the boat. Compare the large diameter tubes on AB inflatables to the lesser tubes of our competitors. We use large tubes for each boat size to improve safety and seaworthiness, increase payload capabilities, and to give you a dry ride. Another example of how ARTIGIANA BATTELLI makes the extra effort to manufacture a better boat. All AB inflatable boats are built with a minimum of three air chambers, divided by a special baffle system that equalizes pressure in all three air chambers. In addition, each tube is sized proportionately to the boat's hull dimensions, so you get the best ratio of boat length to interior space to weight possible.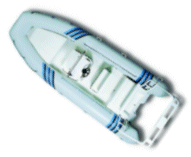 The sole most important factor of an inflatable boat, is the fabric used in its manufacture. That is why AB Inflatables has chosen Du Pont's HYPALON® reinforced fabric, manufactured by Pennel & Flipo Industrie, the biggest European rubber materials producer. P&F have developed during the last 75 years, among other products, fabric for the nautical world. Their products conform to the highest standards having obtained various certifications by European and International organizations.

P&F material used in the manufacture of AB Inflatables is constituted by the following: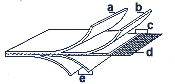 a. Colored Hypalon Sheet
b. Colored Neoprene Sheet
c. Adhesion System
d. Polyester Textile High Tenacity
e. Black Neoprene Sheets