Sport Tenders (Roll-Up)

LSI
Our LSI boats are the only inflatable tenders made with Hypalon®-reinforced high-pressure air
floors. When you consider the abuse decks take from scrapes, the sun, saltwater and even oil
and gasoline, it makes sense to have the toughest material available to protect them – and that
is Hypalon®. So our remarkable AirFirm™ floors are not only incredibly lightweight and rigid, they
are also the most durable you will find.

Thousands of polyester threads make our air floors super firm. The additional support of an air
keel not only increases floor rigidity, it also enhances overall performance. With large tube
diameters, LSI tenders carry heavy loads despite their light weight.

There are now six different LSI models to choose from. No other air floor tenders offer more
convenience, more quality or more choices.

LSI Standard Features Include: Air keel (all models except LSI-77); Hypalon drop stitch
AirFirm™ Floors; full length rubbing strake; fold down locking oar system; two-piece break
down aluminum oars & oar holders; bow D-ring plus towing bridle D-rings; life lines; removable
wood rowing seat; protective motor clamp; self-bailer valve; large high pressure foot pump with
pressure gauge; carry bag; maintenance kit; floor protection pad for gas tank; and roomy square
bow design.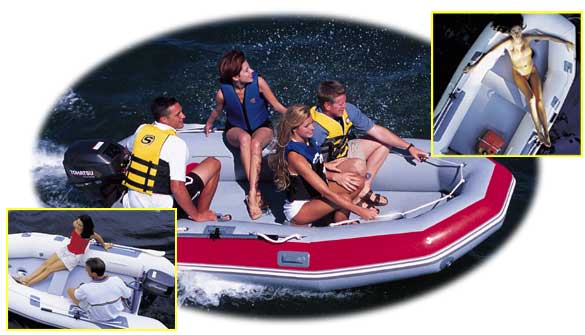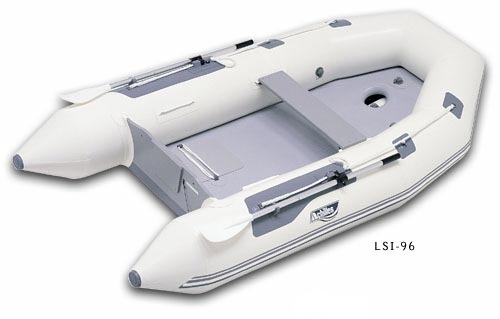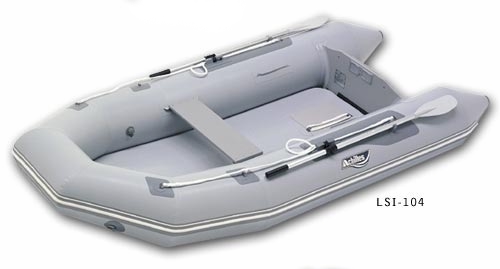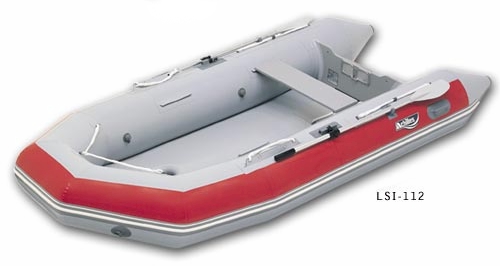 Boat Specifiactions:

| | | | |
| --- | --- | --- | --- |
| | LSI-77 | LSI-88 | LSI-96 |
| Color: | Lt. Gray | White or Lt. Grey | White or Lt. Grey |
| Length: | 7' 7" (230 cm) | 8' 8" (265 cm) | 9' 6" (295 cm) |
| Inside Length: | 5' 1" (155 cm) | 6' 1" (185 cm) | 6' 9" (205 cm) |
| Beam: | 4' 9" (144 cm) | 4' 9" (144 cm) | 5' 2" (158 cm) |
| Inside Beam: | 2' 2" (66 cm) | 2' 2" (72 cm) | 2' 4" (72 cm) |
| Tube: | 15.5" (39 cm) | 15.5" (39 cm) | 17" (43 cm) |
| Weight: | 60 lbs (27 kg) | 63 lbs (28.5 kg) | 73 lbs (33 kg) |
| Load Capacity: | 770 lbs (350 kg) | 925 lbs (420 kg) | 1,145 lbs (520 kg) |
| Person Capacity: | 2 | 4 | 4 |
| Max H.P.: | 4 Standard Shaft | 6 Standard Shaft | 8 Standard Shaft |
| Air Chambers: | 2 & Floor | 2 & Keel & Floor | 2 & Keel & Floor |
| | | | |
| --- | --- | --- | --- |
| | LSI-104 | LSI-112 | LSI-122 |
| Color: | White or Lt. Gray | Lt. Gray or Red/Grey | Red/Grey |
| Length: | 10' 4" (315 cm) | 11' 2" (340 cm) | 12' 2" (365 cm) |
| Inside Length: | 7' 3" (220cm) | 7' 5" (226 cm) | 8' 9" (268 cm) |
| Beam: | 5' 2" (158 cm) | 5' 6" (168 cm) | 5' 2" (168 cm) |
| Inside Beam: | 2' 4" (72 cm) | 2' 7" (78 cm) | 2' 7" (78 cm) |
| Tube: | 17" (43 cm) | 18" (45 cm) | 18" (45 cm) |
| Weight: | 75 lbs (34 kg) | 94 lbs (43 kg) | 113 lbs (51.5 kg) |
| Load Capacity: | 1,230 lbs (560 kg) | 1,630 lbs (740 kg) | 1,740 lbs (790 kg) |
| Person Capacity: | 4 | 5 | 6 |
| Max H.P.: | 10 Standard Shaft | 15 Standard Shaft | 25 Standard Shaft |
| Air Chambers: | 2 & Keel & Floor | 3 & Keel & Floor | 4 & Keel & Floor |



For A Brochure, Pricing and Availability Call:
707-429-3995

West Coast Inflatables 4227 B Lozano Lane, Fairfield, Ca 94533
Comments/Questions e-mail Us At wcinflatables@aol.com

HOME