Sport Boats

SE
The SE-121 and SE-131 sport boats offer high quality, 12 and 13-foot Hypalon® inflatables at prices
competitive with PVC boats and lower than other Hypalon inflatables! Yet you are still guaranteed
Achilles-brand quality in a striking, two-tone design which allows Achilles 2004 sportboats to stand
out from all the imitators. If you're looking for extra space without the extra cost, look no further. You
an do it all with an Achilles SE Sportboat.

Standard Features Include: Deep "V" inflatable keel; self-locking wood floorboards with aluminum
battens and stringers; marine-grade plywood transom; Hypalon/Neoprene reinforced fabric; fold-down
locking oar system with two-piece breakdown aluminum oars; lift & carry handles; helmsman safety
grip; lifelines; removable dual position wood seat; high-volume foot pump; and maintenance kit.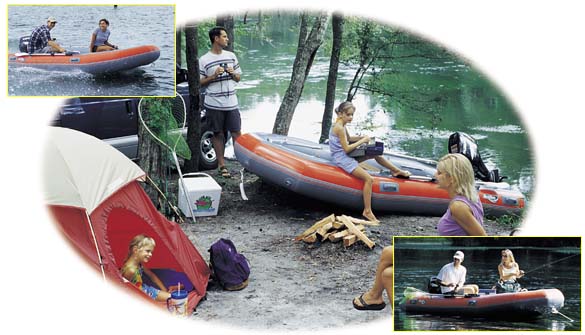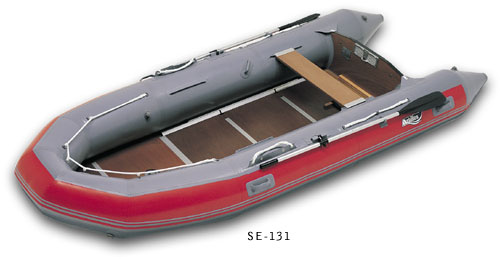 Boat Specifications:
| | | |
| --- | --- | --- |
| | SE-121 | SE-131 |
| Color: | Red/Gray | Red/Gray |
| Length: | 12' 2" (365 cm) | 13' 2" (400 cm) |
| Inside Length: | 8' 9" (268 cm) | 9' 4" (284 cm) |
| Beam: | 5' 4" (162 cm) | 5' 9" (175 cm) |
| Inside Beam: | 2' 6" (76 cm) | 2' 9" (85 cm) |
| Tube: | 17" (43 cm) | 18" (45 cm) |
| Weight: | 139 lbs (63 kg) | 160 lbs (72 kg) |
| Load Capacity: | 1,474 lbs (670 kg) | 1, 760 lbs (800 kg) |
| Person Capacity: | 5 | 6 |
| Max H.P.: | 15 (4-25) Standard | 20 (6-35) Long |
| Air Chambers: | 4 & Keel | 4 & Keel |



For A Brochure, Pricing and Availability Call:
707-429-3995

West Coast Inflatables 4227 B Lozano Lane, Fairfield, Ca 94533
Comments/Questions e-mail Us At wcinflatables@aol.com

HOME