SU Boats are built tough to work hard for rugged private and commercial use. They are
made with an additional heavy-duty layer of 840-denier nylon fabric in a two-ply technique
which results in a core fabric even stronger than a single base fabric of equal thickness.
A number of exclusive features such as recessed valves are built into these boats which
combine to bring the advantages of an inflatable to the demands of tough commercial
marine use.

Standard Features Include: Hypalon/Neoprene fabric; Toughest double layer (840
denier each) nylon core fabric; trigon air keel; aluminum self-locking floorboards &
stringer system; fiberglass transom with aluminum plate (exterior) & motor pad
(interior); fuel tank tie-down; large self-bailer; extra-wide, heavy-duty, full-length teardrop
rubbing strake; tie-down straps for paddles; bow carry handle, towing bridle D-rings; lift & carry
handles; splash guard with life lines; heavy-duty reinforced cargo wear patch all around;
extra tie-down D-rings; large non-corrosive recessed valves; two (2) high-volume large
foot pumps; maintenance kit.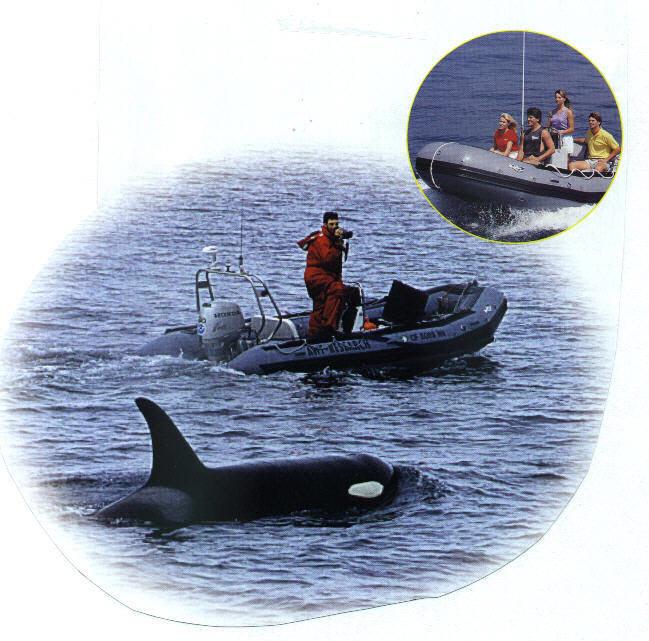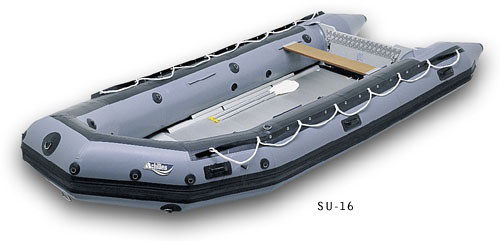 Boat Specifications:
| | | |
| --- | --- | --- |
| | SU-16 | SU-18 |
| Color: | Gray | Gray |
| Length: | 16' (488 cm) | 18' (549 cm) |
| Inside Lenght | 10' 10" (330 cm) | 12' 0" (366 cm) |
| Beam: | 6' 9" (206 cm) | 7' 7" (230 cm) |
| Inside Beam: | 3' 3" (100 cm) | 3' 7" (110 cm) |
| Tube: | 21" (53 cm) | 24" (60 cm) |
| Weight: | 365 lbs (165.5 kg) | 400 lbs (182.5 kg) |
| Load Capacity: | 3,210 lbs (1,460 kg) | 4,660 lbs (2,120 kg) |
| Person Capacity: | 10 | 15 |
| Max H.P.: | 40 (20-75) Long | 50 (25-90) Long |
| Air Chambers: | 5 & Keel | 5 & Keel |



For A Brochure, Pricing and Availability Call:
707-429-3995

West Coast Inflatables 4227 B Lozano Lane, Fairfield, Ca 94533
Comments/Questions e-mail Us At wcinflatables@aol.com

HOME