SG
These "top-of-the-line" models continue to set the standard for inflatable sportboats. Built for high
performance with deep "V" trigon air keels, Achilles SG boats offer a roomy, square bow configuration
which provides room for extra gear, and an aluminum floor system which delivers superior traction,
rigidity and durability. Achilles SG sportboats bring performance and practicality together for better
water skiing, diving, fishing or all-around sportboating pleasure!
Standard Features Include: Hypalon/Neoprene fabric; Roomy square bow configuration; trigon air
keel; aluminum self-locking floorboards with aluminum stringer system; fiberglass transom with
protective motor clamp plate; fuel tank tie-downs; self-bailer valve; full-length teardrop rubbing strake;
fold-down locking oar system (except SG-156); bow carry handle; lift & carry handles; towing bridle
D-rings; helmsman grip; life lines; full-length splash guard; transom splash guard; removable bow
spraydodger, bow holdall fitting points; cushion seat fitting points; large, non-corrosive check valves;
large, high-volume foot pump; double carry bag system; maintenance kit.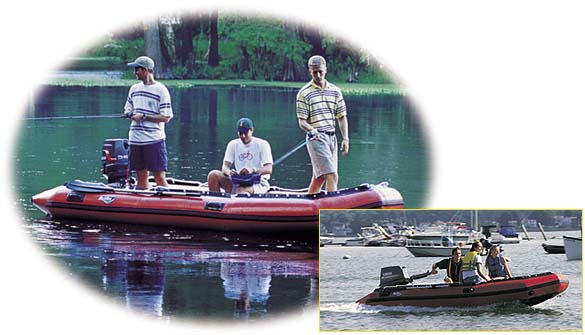 T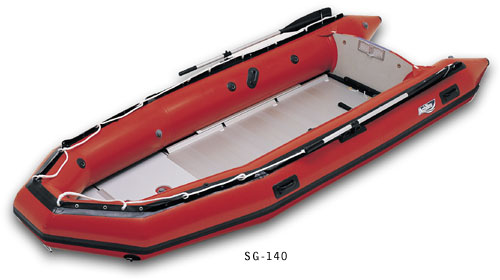 Boat Specifications:
| | | |
| --- | --- | --- |
| | SG-140 | SG-156 |
| Color: | Red | Red |
| Length: | 14' (425 cm) | 15' 6" (473 cm) |
| Inside Length | 10' 0" (305 cm) | 10' 11" (333 cm) |
| Beam: | 5' 9" (175 cm) | 6' 3" (190 cm) |
| Inside Beam: | 2' 9" (85 cm) | 3' 0" (90 cm) |
| Tube: | 18" (45 cm) | 20" (50 cm) |
| Weight: | 221 lbs (100.5 kg) | 264 lbs (120 kg) |
| Load Capacity: | 1, 960 lbs (890 kg) | 2,820 lbs (1,280 kg) |
| Person Capacity: | 6 | 8 |
| Max H.P.: | 30 (9.9-50) Long | 35 (9.9-55) Long |
| Air Chambers: | 4 & Keel | 5 & Keel |



For A Brochure, Pricing and Availability Call:
707-429-3995

West Coast Inflatables 4227 B Lozano Lane, Fairfield, Ca 94533
Comments/Questions e-mail Us At wcinflatables@aol.com

HOME