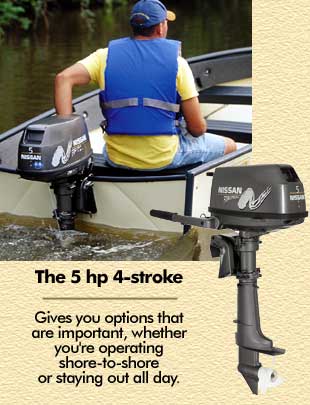 The Nissan Marine 5 hp 4-stroke outboards are EPA- compliant engines that combine environmental responsibility with powerful performance. The 5 hp 4-strokes
are available in both short & long shafts to fit your boating needs.
These engines are clean running, fuel efficient, economical and durable, with all of the quality features you expect from Nissan such as a compression release for easy starting, through-the-prop exhaust for quiet running, shallow water drive for low water levels and an oil pressure indicator that will visibly warn you if the oil level gets to low. It also has an external/separate fuel tank for long running hours as well as forward-neutral-reverse gearshift for maximum maneuverability and control.