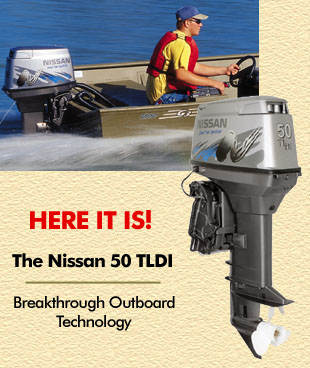 After years of painstaking research and extensive testing, our 50 TLDI (Two-Stroke, Low pressure, Direct Injection) is ready to take ship! The Nissan Marine 50 TLDI is the smallest 2-Stroke outboard on the market with air-assisted, direct fuel injection. This outboard provides exceptionally smooth operation and outstanding performance all the while providing superior fuel and oil efficiency. This outboard is every boaters dream!
The 50 TLDI is already being heralded as the outboard to buy! With our proven 2-stroke block, we have added this new low-pressure air/fuel delivery system to give you an outboard that is cleaner for the environment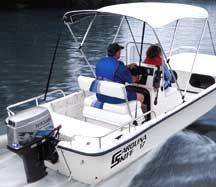 while also giving you
the highly delivered performance you expect from Nissan. This engine guarantees lower oil and fuel consumption in a compact yet powerful outboard package Our 50 TLDI weighs up to 15% less than competitive 4-stroke outboards and meets all 2006 EPA regulations as well as all CARB (California Air Resource Board) requirements through 2007. It offers many of the same features as the 2-stroke carbureted 50 hp while providing you with several new features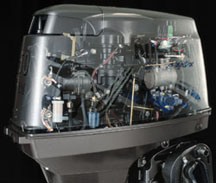 such as dual TPS's (Throttle Position Sensor) to provide precise air flow to maximize fuel efficiency and minimize emissions, a rev-limit sensor, a water temperature sensor to prevent possible damage from overheating, and a visible oil level sensor for low oil level.
The 50 TLDI combines state-of-the art technology with proven dependability to offer you this truly unique outboard!