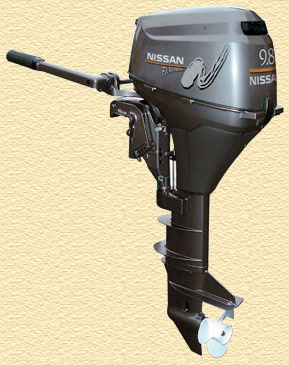 At long last, the premiere of 4-stroke outboard portability is here! The 9.8 hp 4-stroke is now available for the 2004 model year.

This compact outboard has all of the power that you need for any small craft while making sure that it does it's part to keep Mother Nature happy! The minimum weight is only 81.5 lbs, making sure that you have the utmost ease while transporting your outboard and giving you a fabulous horsepower-to-weight ratio!

Nissan Marine has added several new features, along with our standard features, for your furthered benefit. This outboard has a larger splash plate that minimizes potential water splash. The fast-idle choke system eliminates the need for difficult choking techniques and enables simplistic starting. A large capacity air silencer
greatly reduces induction noise creating a nice, quiet ride on the water. The
dynamically balanced crankshaft and upper rubber mounts greatly reduce
vibration to ensure smooth running throughout the entire RPM range.

This outboard comes in a variety of configurations. We have both short 15"
and long 20" shafts available, electric start and remote control models alike.
We even have an ultra long 25" shaft for you sailboaters!

Each motor comes standard with an aluminum propeller, a 3.1 gallon (12 liter)
fuel tank, fuel hose and fittings, and a tool kit. If you purchase a remote
control model, we even provide the side mount control box at no extra charge!
All 9.8 hp 4-strokes meet EPA regulations for 2006 and have a 3-Star CARB
rating. And our 3-year limited warranty gives you peace of mind for your time
spent boating. The 9.8 hp 4-stroke is a definite winner!