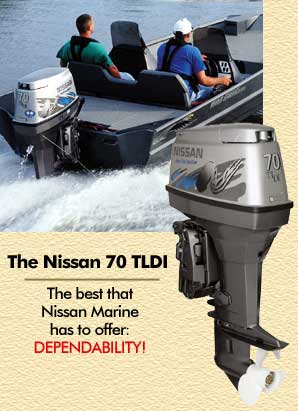 In 2002, we introduced the newest addition to our TLDIŽ lineup in a 70 hp. This outboard has all of the features you expect and much more in a midrange motor.
Our powerful air-assisted direct fuel injection system (found on all TLDIŽ outboards) gives you the best possible fuel economy while also giving you a clean burn to reduce emissions. You can save from 12% to 71% on fuel savings through various RPM ranges. All TLDIŽ outboards meet or exceed the U.S. EPA and CARB regulations. This lightweight 70 TLDIŽ outboard offers a ton of safety features to protect your motor such as an over-rev limiter, oil level warning system, onboard self-diagnosis system, etc.
And with durable, long-wearing features such as a stainless steel water pump housing, zinc coating on internal water passages, and a multi-point oil injection system, this little number gives you the best that Nissan Marine has to offer: Dependability!